How to measure a Throw Pillow
Posted by Layla Vu Becker on
Throw pillows are a great way to pull together the design of any indoor or outdoor living space. Follow these steps to ensure your throw pillow is made to the correct specifications.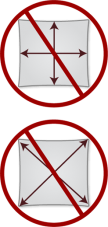 Use a firm (ie, a carpenter's) tape measure, rather than a flexible (ie, a tailor's) measuring tape for the most accurate results.
DO NOT measure the pillow diagonally. 
DO NOT measure the pillow across its center.
Keep in mind that when ordering, you will need to round up or round down to the nearest ½ inch.
You may find it helpful to have someone else hold the pillow while you take measurements.
Pillow dimensions are based on measuring along the edge of the pillow, not the width of the stuffed pillow. Once filled with poly fiber, the height and width will be slightly less than the measurements ordered. For example, a 12" × 12" pillow will have perceived finished dimensions of 11" × 11" when stuffed.
Luala Silk quickly expanded its offerings beyond silk bedding and silk pillowcases. We will soon offer custom drapes.
Our custom pillow selection has now grown to include designer style pillows, such as round sunburst pillows and the chic duvet pillow, that can't be found anywhere else. All are hand made and we work personally with designers to create unique decorative cushions that are custom made to your dimensions and your choice of our extensive range of hand dyed silk fabric.
We are proud that we will bring the best service and personal care to your bedroom your living spaces, whether residential or hospitality. 
For customers in a hurry or oversize request we offer a faster and less expensive alternative to fully customized products.
Want to order silk pillow cases or shams?
Lumbar pillows should be measured the same way as throw pillows. Simply follow the directions above to get an accurate measurement
We are here to help!
Each and every cushion is designed to fit the dimensions our customers provide.The above are the steps we take to confirm the finished cushions meet your provided measurements.
Most cushion style must be measured slightly differently
Contact us if you think your cushion was made to the incorrect size, just give us a call @ 510-697-0898 or send us an email: custom@lualasilk.com
Our customer service representatives will be glad to help.
← Older Post Newer Post →